Marantz SR8012 (Demo) Efterårsrengøring
"Hvis du vil have en receiver, der leverer varen på både musik og film, hele tiden med silkehandsker, men aldrig bange for at slå løs med forhammeren, så er Marantz SR8012 noget for sig. Stereo eller surround, film eller musik – den er nærmest fri for svagheder. Brugervenligheden er desuden i særklasse."
"Læg hertil streaming og multirum med HEOS, og den placerer sig øverst på vores must-have-liste. Her må lommetørklædet frem – for at tørre savl væk fra mundvigene!" Geir fra Lyd & billede.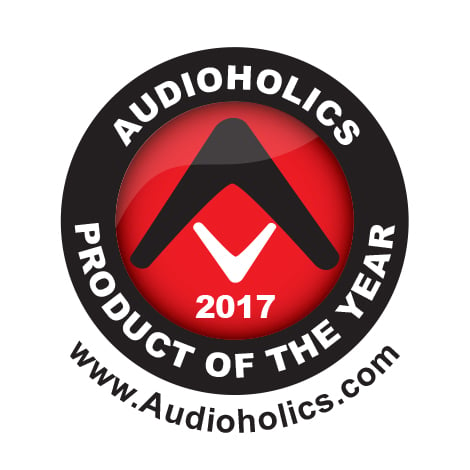 "We are currently reviewing the SR7012 but the 8012 takes it up a notch by offering a much meatier amplifier section reminiscent of days of the Super AV receivers. A large toroidal power supply and dual heatsinks allow this bad boy to provide 140 watts/Ch x 11 which should be enough power for most home theater systems with up to a 7.2.4 speaker configuration."
Oplev toppen af Marantz ekspertise med det nye flagskib SR8012 - den første 11.2-kanals receiver fra Marantz, som sætter helt nye standarder for ydelse. Omgiv dig selv med lyd via Dolby Atmos, DTS:X og Auro 3D, alle tre er codecs der driver højttalere over din siddeposition for en ægte 3D lydoplevelse.

Receiverens 11 højkvalitets forstærkertrin forbedrer lydkvaliteten via nøje udvalgte komponenter, hvilket inkluderer Marantz "Hyper Dynamic Amplifier Modules" (HDAMs). Disse sender lydsignalet til forstærkertrinnene, der hver yder 205 Watt af ren Marantz power og finesse, så SR8012 kan drive et fuldt 7.1.4-kanals hjemmebiosetup, uden brug af ekstra effektforstærkere ved siden af.

SR8012 bruger avanceret Marantz lydtuning ned til mindste detalje og inkorporerer flere funktioner fra firmaets reference stereo-forstærkere så som; kobberbelagt kabinet, en velvoksen og afskærmet ringkernetransformator bygget specielt til Marantz specifikationer og specialfremstillede kondensatorer der overholder vores ingenørers nøje standarder.

Med indbygget HEOS teknologi, er SR8012 en del af HEOS multi-rums musiknetværk, som lader dig nyde din favoritmusik alle steder i dit hjem: opdag, gennemse og afspil musik fra din egen filserver, online streamingtjenester eller tusindvis af internetradiostationer via den gratis HEOS app.

.
Hovedfunktioner:
11.2-kanals AV-Receiver med 205 Watt per kanal
4K/60Hz fuld pass-through, 4:4:4 farveopløsning, HDR, BT2020, Dolby Vision og HLG (Hybrid Log Gamma) pass-through.
8 HDMI indgange (inklusiv 1 i fronten) med fuld HDCP 2,2 understøttelse, 3 HDMI udgange (inklusiv Zone 2).
eARC (Enhanced Audio Return Channel) understøttelse via firmware opgradering
Analog til HDMI konvertering og SD til HD/4K opskalering
Dolby Atmos (op til 7.1.4 eller 9.1.2), DTS:X og Auro 3D dekodning indbygget
Indbygget 2.4/5Ghz dual band Wi-Fi
Indbygget HEOS multirums lydteknologi.
Understøttelse for; Airplay, Bluetooth, Internetradio, Spotify Connect, TIDAL, Deezer med flere
DSD (2.8/5.6MHZ), FLAC, ALAC og Wav understøttelse
Audyssey MultiEQ XT32, LFC, Sub EQ HT, Dynamisk volumen og Dynamisk EQ
Farvekodede højttalerterminaler, opsætningsassistent og Marantz Remote App.
Intelligent ECO-mode med slukket/tændt/auto-indstilling
Avancerede multirumsløsninger; 11.2-kanals dekodning med pre-out til alle kanaler, RS232-kontrol; Creston Connected
The ultimate in Marantz build and sound quality
---
With unparalleled Marantz performance, the new top-of-the-line SR8012 AV receiver is made for those wanting the ultimate audio and video experience. Its symmetrical monolithic amplifier design gives it 11 identical amplifier channels, each delivering 205W per channel, for seamless surround sound integration. The design also brings to the Marantz AV receiver line a large toroidal transformer, mounted centrally for mechanical balance, a copper plated chassis, selected audio components throughout and high-grade speaker terminals. The SR8012 opens a new chapter in the illustrious history of Marantz AV receivers.
Latest HDMI Connectivity; HDCP 2.2 Compatible
---
Along with 8 HDMI inputs, including one conveniently located on the front panel for quick connection, the SR8012 has an advanced video section supporting the latest HDMI specification, including 4K Ultra HD 60Hz video, 4:4:4 Pure Color sub-sampling, High Dynamic Range (HDR) and 21:9 video, 3D, and BT.2020 and Dolby Vision pass-through support is available on every input, with pass-through for HLG (Hybrid Log Gamma), a new broadcast HDR format, to be supported via a future firmware update.
HDCP 2.2 compatibility for 4K Ultra HD copy-protected content, means the SR8012 is ready for the next generation of Blu-ray disc players, set-top boxes and 4K Ultra HD streams and downloads, and its video processor can transcode and upconvert analogue and digital video content to 4K Ultra HD, breathing new life into your favourite legacy sources. Three HDMI outputs are provided - two for the main zone, so you can run a TV and projector in parallel, and one for a second zone.
Dolby Atmos

---

Feel every dimension in Dolby Atmos. Dolby Atmos transports you into the story with moving audio that flows all around you with breathtaking realism. Enjoy a 5.1 or even 7.1 surround sound speaker system and 4 additional overhead speakers or 4 Dolby Atmos elevation speakers without the need for external amplification, for the ultimate home theatre experience - including Dolby Surround upmixer for legacy content.

DTS:X

---

DTS:X™ immersive audio places sound where it would occur naturally in space, creating a lifelike, multi-dimensional audio experience in the home. The improved immersion and heightened realism draw you into the world of your favourite movies. The included spatial remapping engine, DTS Neural:X™, gives your movie, game and music collections a new lease on life! DTS:X brings the theatre home.



Auro-3D

---

Putting you in a cocoon of life-like sound. Auro-3D® elevates the home theatre experience to amazing new levels by delivering the excitement of three-dimensional sound for music, games, broadcast, and films while enhancing your existing audio-visual collection, thanks to Auromatic up-mixing engine.

HDMI eARC Object-Based Audio Support

---

eARC (Enhanced Audio Return Channel) supports the transmission of 3D audio from your TV apps with a single HDMI connection for the simplest setup. This feature will be enabled via a future firmware update.




Built-in Bluetooth, Wi-Fi, and AirPlay Capability
The Audyssey MultEQ Editor App
---
The SR8012 supports the brand-new Audyssey MultEQ Editor App. Go 'under the hood', view and adjust settings for detailed tuning, customize the sound more precisely to the specific problems in your room, and tailor the sound to your personal preferences.
View the speaker detection results, to check correct installation.
View before and after results of the Audyssey calibration, making it easy to identify room problems.
Edit the Audyssey target curve for each channel pair to suit your tastes.
Adjust the EQ frequency adjustment range for each channel pair.
Switch between 2 high frequency rolloff target curves.
Enable/Disable midrange compensation to make the vocal region brighter or smoother.
Save and load calibration results.
The Audyssey MultEQ Editor app, for Android and iOS, is available for purchase from the Apple AppStore or Google Play Store.
External Control Capabilities
---
The SR8012 has a range of features to provide enhanced control and compatibility with 3rd party and custom integration solutions, including IP control, either via wired LAN connection or Wi-Fi. For compatibility with other components there's a remote control input and output on the rear panel, along with a flasher input and a 12V trigger output, while for direct connection to external home automation and control equipment, there's an RS-232C serial port. The SR8012 also features Crestron Connected for quick and easy integration with home automation equipment.
<><><>
Dual Subwoofer Outputs

---

A single subwoofer demands optimal placement to avoid audible peaks and dips in the low-frequency response at the main listening position. The SR8012 supports two subwoofers: used in different locations, these will even out the low-frequency response for more accurate bass anywhere in the room.






Multi-Source/Multi-room

---

Whatever your family's entertainment needs, the SR8012 delivers: you can enjoy 7.1-channel surround sound in the main room, and at the same time play stereo sound from another source in a different part of the house. Simply connect a pair of stereo speakers to the multi-room amplified outputs, or hook up a separate stereo amp and speakers to the Zone 2 pre-outs.
Smart TV Connectivity
---
Via the HDMI CEC (consumer electronics control) functionality on some Smart TVs, it's possible to control the SR8012 with the TV's remote handset. With the receiver's "HDMI control" set to ON, set "Smart Menu" receiver control functions and the TV's Smart Menu home screen will provide you direct access to source and surround mode selections, the main setup menu, and Smart Select configuration presets.
Simple Smart Select Functions

---

The SR8012 has four Smart Select buttons on the front panel and the remote control: each stores a preferred setup – input, volume and Audyssey configuration – for a particular source. Push one button and the SR8012 can be perfectly configured for anything from Blu-ray or your TV set-top box to your favourite Internet radio station.




Easy To Setup,Easy To Use

---

For easy installation, the SR8012's horizontal row of premium loudspeaker terminals is colour coded, with a set of matching cable-labels supplied to ensure correct hook-up. The AVR's clear graphical on-screen display has an exclusive Setup Assistant, combining with the Quick Start guide to provide guidance and optimise critical settings for the best possible sound quality, whatever your configuration.



More than 60 Years of Audiophile Heritage
---
Founded in 1953, Marantz has a long and rich history of designing audio components embraced by music lovers and critical listeners around the world. Because Music Matters so much in our lives, the SR8012 carries on our long tradition of delivering superlative stereo listening, as well as the ultimate home theatre experience.
Yderligere information
| | |
| --- | --- |
| Producent | Marantz |
| Vægt | 17.4000 |
| Kategori | Surround reviecer |
| Watt 8 ohm | 11x 140 W (20 Hz - 20 kHz, 0.05% 2ch Drive) |
| Analoge linjeindgange | 6+1 |
| Digitale indgange | 2x Optisk, 2x Coaxial, 1x USB-A for iPhone/iPod(front) |
| pladespiller indgang | ja MM |
| Pre out | Multichannel (11.2 RCA) |
| sub udgang | 2 (individuelle) |
| høretelefonudgang | 6.5 mm |
| Bluetooth | ja |
| WiFi | ja |
| Airplay | ja |
| Spotify | ja |
| Fjernbetjening | remote only |
| Højt. tilslutning (hvor mange sæt) | 11 |
| Trigger funktion | ja, 12V |
| Mål HxBxD | 185 x 440 x 460 |
| Max. Power Consumption | 780 W / 65 W (No-sound (ECO on)) |
| Standby Power Consumption | 0.2 W (auto power off) / 0.5 W (CEC) |
| HDMI | 3D / 4K / CEC / ARC (HDMI pass-though in standby mode) |
| effekt 6 ohm | 11x 175 W (1 kHz, 0.7% 2ch Drive) / 11x 205 W (1 kHz, 1% 1ch Drive) |
| Multiroom | 3 zones (HEOS) |
| Remote power control | IR Flasher In |
| Power transformer | Toroidal |
| HDMI inputs / outputs | 7+1 / 2+1 |
| Graphic user interface - GUI | Advanced |